Many types of mini drones exist on the market, each offering its own features, specifications, and abilities. The drone is small in size, but big in features, and a toy that all ages love and appreciate. A plethora of mini-drones exist, with prices low and high for these selections. Spending money on a mini-drone is something you should do only once you've researched the choices.
How to Choose Mini-Drones
Choosing the best mini drones for your specifications is simple, thanks to an abundance of online information, such as reviews. You can take advantage of this reading, and quickly learn the good mini-drones from the bad. Choosing a great mini-drone is much easier when you also understand your desires in the product before your shopping experience begins.
Set a budget for the purchase of your drone, because you'll find mini-drones sold in an array of prices small and large. When there's a pre-budget amount in place, you won't spend more than you intended on the purchase.
Research the brands to find one that is trusted and well-respected. Just like any other product you purchase, some mini-drones' brands are better than others. If you're going to spend money on a mini-drone, why not get a product that exceeds expectations?\The features of the mini-drone are also important. Some mini-drones are basic, and provide flying and photo capabilities, without a lot more going on with them. Other models of the drones, however, take your fun to the next level, and provide so many exciting functions and features.
Although the mini-drone style is unimportant to some, choosing one appealing to the eye makes your play time so much more fun, so definitely keep style in mind.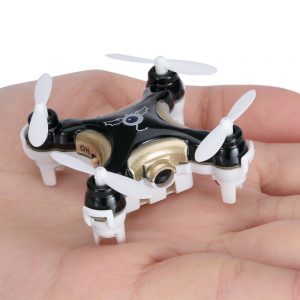 Say Hello to DJI
You'll notice the DJI name often as you search the mini-drones options. This company is one of the original names in drone manufacturing, and they continue to offer impressive products for all interests and levels of society. The sophisticated DJI brand offers a multitude of mini-drones designed to impress with endless features and functions. The Phantom 2 Vision Plus is one of DJI's most popular mini-drones.
Hubsan: Mini-Drone Maker
Another top name in the drones world is Hubsan. This brand offers mini-drones a bit more reasonably priced that the Hubsan name, but that offer just as much fun. The X4 Quadcopter excites many mini-drones users. This quadcopter sells for less than $100, and offers so many exciting and unexpected benefits for that cost. This brand, as well as the X4, are both worth your consideration.
Why Buy Mini-Drones?
Mini-drones are fun to fly, and help adults find the kid in them, while families come together, and children reclaim that much needed outdoor play time. Mini-drone users enjoy a versatile piece of equipment that is engaging, allows the capturing of unique photos, and so much more. And, the price of mini-drones is extremely reasonable, so even with a limited budget, you'll enjoy an array of choices that comfortably meet your needs.